Mission Statement
Helping build a better society by
putting the right people in the right jobs
Recruiting Consultant:Headhunter
Fumio Sato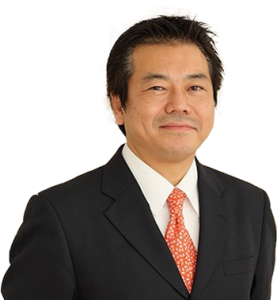 Born in Tokyo in 1960.
After graduating from the law faculty of Hitotsubashi University in 1984, I worked at Nissho Iwai Corporation (a general trading company), Salomon Brothers Asia Ltd. (a securities company, now Nikko Salomon Smith Barney Limited), Bridgestone Corporation (a manufacturer), and Tokyo Executive Search Co., Ltd.
In June 2003 I stood down from the post of managing director and after a short spell of time out I established Sato Jinzai Search Co., Ltd. in October of the same year.
Publications
| | |
| --- | --- |
| September 2001 | Tenshoku de Kyaria o Tsukuru! (Change Jobs and Build Your Career!), Diamond, Inc. |
| March 2003 | Tenshoku Shindan (Job-change Checkup), President Inc. |
| February 2004 | Kyaria Appu no Puro ga Oshieru Tenshoku no Kanzen Seikojutsu (Proven Job-seeking Skills from a Professional Career-builder), Chukei Publishing Company |
| April 2004 | 40-sai kara no Tenshokujutsu (Job-seeking Skills for the Over-40s), Nikkei Business Publications, Inc. |
| March 2005 | Tenshoku no Baiburu (The Job Change Bible), Keizaikai Co., Ltd. |
| June 2006 | How to Make Your Company Notice Your True Abilities,PHP Research Institute, Inc. |
| February 2006 | Head Hunting Bible,Keizaikai Co., Ltd. |
My interests include long-distance running and scuba diving.
Career
| | |
| --- | --- |
| Mar. 1984 | Graduated from Faculty of Law, Hitotsubashi University |
| Apr. 1984 – Mar. 1990 | Nissho Iwai Corporation |
| Apr. 1990 – July 1991 | Salomon Brothers Asia Ltd. |
| Aug. 1991 – Sept. 1997 | Bridgestone Corporation |
| Oct. 1997 – June 2003 | Tokyo Executive Search Co., Ltd. |
| July – Sept. 2003 | Time out |
| Oct. 2003 | Established Sato Jinzai Search Co., Ltd. |
Corporate Profile
Company Name
Sato Jinzai Search Co., Ltd.
Established
October 2003
Capital
30 million yen
President
Fumio Sato
Business
Personnel placement services(Business and personnel consulting focusing on
recruitment through HR search and talent scouting)
Address
4-bancho,Sugacho,Shinjuku-ku, Tokyo,
160-0018,Japan
Phone
03-6380-4456
E-mail
info@sato-jinzai.com
Bank
Bank of Mitsubishi-Tokyo-UFJ, main branch
Sumitomo Mitsui Banking Corporation,Roppongi branch
Mizuho Bank, Ltd. Roppongi Branch