For anyone from the late 30s upward who is hesitant about changing jobs
People who joined companies as new graduates during Japan's economic bubble ? in other words those now in their late 30s or above ? assumed they would have jobs for life.
But the reality is that lifetime employment has begun to crumble over the last five years. What's more, your company could suddenly be swallowed up in a merger or taken over by a foreign firm. I am in no way negative about the idea of working for one company your whole life. But in today's world you can't afford to close your mind to the possibility of changing jobs.
What if restructuring or early retirement meant you had to leave your job before the normal retirement age? Use this book to prepare now, and make sure you would be ready to make such a change without difficulty.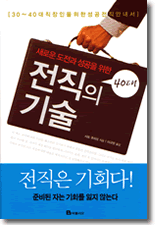 Published in Korea in 2005
Contents
| | |
| --- | --- |
| Chapter 1 | Why are over-40s reluctant to change jobs? |
| Chapter 2 | How to make use of your current experience in your next job |
| Chapter 3 | The realities of the job market for the over-40s |
| Chapter 4 | How to get started |
| Chapter 5 | The model job search |
| Chapter 6 | The right way to quit |
| Chapter 7 | A whole new world! Pointers for your new workplace |
| Chapter 8 | Overcoming common post-switch problems |
Published April 2004